How to transform your outdoor fireplace into a pizza oven
Wood fired pizza is a romantic notion — but it's only romantic in reality — if people are out there with you, rather then hiding inside where it's warm.
Flare built pizza ovens for a while, before we focused on just outdoor fireplaces. We can't quite remember when we created our first pizza hood accessory for our outdoor fires. We're not even sure you could buy pizza hoods for your standard bbq back then. There's still no other pizza oven cooking system like that in a Flare Outdoor Fireplace.
You can transform your Flare Outdoor Fireplace into a pizza oven by adding a few simple pizza oven cooking accessories.
These include:
These accessories allow you to keep the fire pumping, so everyone is staying warm, while you cook authentic Italian style pizza — or just whatever recipe the kids make up. That's the joy of getting outside and cooking pizza — you can engage the kids, let them design their perfect pizza and learn to cook on the fire.
It's hard to beat.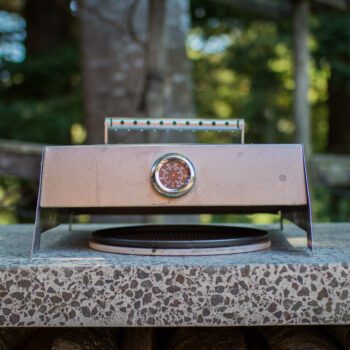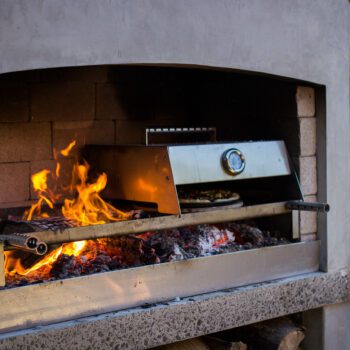 How the experts cook pizza on a Flare Outdoor Fire
These two guys show us how they get the best tasting wood fired pizza's out of their Flare Outdoor Fireplaces. There's some great tips in here around time, temperature and dough. Enjoy!
Can I cook pizza without a pizza hood?
Yes you can, you will need a cooking frame, or swing frame and a hot plate though. The pizza hood helps to cook the top of the pizza before the base burns. It also speeds up the entire cooking process.
How long does it take to cook a pizza?
Depending on how hot you have got your pizza hood, it can take from just over a minute to about 10 minutes. We recommend aiming for about 250c.
Why do I burn the bases?
There could be because your ember base is too big or your pizza hood kit is wet and needs to dry out before use. Try using two pizza stones, this makes things easier by keep some more heat away from your pizza base and slowing down the cook a little.
Why does it take so long for me to cook a pizza?
It could be because:
You didn't warm up your fire
Your wood is wet
Your pizza hood is wet
You haven't brought the pizza hood up to temperature. Try for at least 250c
At what temperature should I cook my pizza?
Experts have a range of opinions on this, but from my experience the best results in a Flare Outdoor Fireplace are achieved at around 250 to 300c.
My 7 tips to the perfect wood-fired pizza
Hi, I'm Mike Edwards, CEO here at Flare Outdoor Fireplaces. Check out my 7 tips for cooking pizza on your Flare Outdoor Fireplace.
My top tips:
Warm up your fireplace
Create a good ember base
Make sure your pizza hood is dry
Warm up your pizza hood
Use 2 pizza stones
Use pizza crispers
Use a hot plate rather then a grill plate