FLARE OUTDOOR FIRES IN AUSTRALIA
Flare Fires are a kiwi innovation, owned and operated by the founders in the sunny Bay of Plenty and exported to the world. We've been operating in Australia for some time, first in Melbourne, but now right across Australia.
Our innovative modular design makes for a quick and cost effective creation of an outdoor fireplace wherever you live.
If you live in Australia, and would like a Flare outdoor fireplace at your place, we manufacture them in the Bay of Plenty then freight them to Australia. They are shipped to your nearest metropolitan area, then an installer can take it from there.
We have customers enjoying our outdoor fireplaces right across Australia, with many going into Victoria and New South Wales.
If you are interested in a quote, contact us here.
We've been in business for nearly twenty years, see our story here.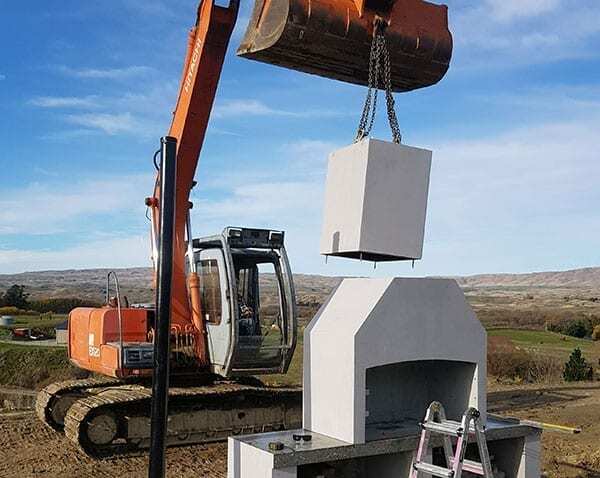 YOUR ORDER AND THE TIMEFRAMES
Currently the lead time is approximately 12 weeks. Give us a call or send us an email and we will give you a quote, including installation if needed. Once you are ready to go ahead, you then pay a $500 deposit to get your order into the production queue.
Our lead time is unusually long at the moment, if a shorter delivery time is needed, contact us and we will see what we can do.
Delivery and Installation in Australia
Flare Fires are shipped to Australia from the port of Tauranga.
Flare Fires outdoor fireplaces can be installed yourself, or someone with DIY skills. You can also use a local builder or landscaper. The installer will also need a crane truck, tractor, forklift or some other heavy lifting equipment to lift the outdoor fireplace into place.
We've seen some of our outdoor fireplaces installed into some tricky spaces in Australia. Many of your suburban spaces are much tighter than we have here in the Bay of Plenty. If you think your spot might be a bit tricky, have a chat with your local crane truck operator, or send us some photos. We are always happy to chat on the phone about what you're trying to achieve at your place.
Installed in just a few hours
Flare outdoor fireplaces (apart from the Martello Steel Tower) are constructed using a modular masonry system for ease of installation. Modules are cast at our premises in the Bay of Plenty, then palletised for shipping to Australia.
Because our outdoor fireplaces are modular, they are relatively easy to install, and installation only takes a couple of hours. We do however recommend you watch our installation videos, so you know what to expect.
Installation Facts
Installs only take a couple of hours
You will need a concrete pad for it to sit on – see our foundation videos
The installer will need good DIY skills
Flare Fires do need heavy lifting equipment to get them into place
Flare outdoor fireplaces can be installed almost anywhere, you just need the right lifting equipment.
Flare outdoor fireplaces can be installed beside or through a roof. Talk to our team about your dream setup.
Flare Fires are delivered with a natural concrete finish. You can then apply plaster, paint or stone to suit your preferred look. Most Flare Fires are left natural.
HOW YOUR FIRE IS PACKAGED