This is one of our modular outdoor fireplaces being barged on Stoney Lake, Ontario, Canada – to Cliffside Peninsula.
One of the great things about our outdoor fireplaces is that they are modular and easy to install, making them accessible and affordable.
Once onsite our outdoor fireplaces only take a couple of hours to install. They can be put together DIY, or using our installers.
This fire was put together using a spider crane, however typically a barge and spider crane aren't necessary.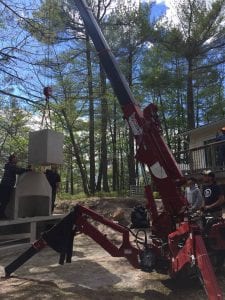 Have a look around our website and check out the different models available. Typically our outdoor fireplaces are chosen for their architectural merit and affordability. In addition, they can be cooked on with an almost unlimited selection of cooking accessories and options.
Flare Outdoor Fireplaces is a New Zealand company, now operating in Ontario Canada. The product is a New Zealand innovation and is the market leader in New Zealand. We've been in business in Canada since 2020, in fact, we tried to launch the week Canada went in Covid lockdown in March of that year.
Flare Outdoor Fireplaces can be installed pretty much anywhere. All you need is a concrete base to place it on. If you contact us we will send you the required specs.
The most important thing at Flare Fires is enabling you to slow life down and make it your time! It might be about finally getting that outdoor space sorted or providing a better way to enjoy food together as a family. Whatever it is for you, we're here and ready to help.