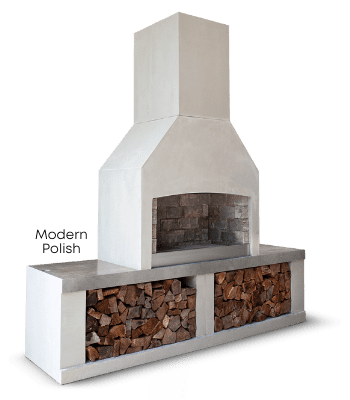 Every Flare Fire comes 'skimmed' with a finishing compound to produce a smooth natural concrete finish that can be left as is or further coated — onsite: with plaster, paint, stone or schist.
Most people leave their fire as it comes, embracing the natural look. Joins can be touched up after install, woodboxes and hearths can be polished to create a great looking working surface.
How to paint your fireplace
When our outdoor fireplaces leave the Flare Fires factory they come to our customers with a natural concrete finish. Most customers leave them like that, but some stone and schist their fire, others plaster and paint them.
After a lot of testing and trials we have come up with a method and product we are happy to recommend, a PeterFell Tinted Sealer applied with a sprayer. Watch this video or check out this article to see how to paint your Flare outdoor fire.
Waterproof Your Flare Outdoor Fire
Waterproofing your Flare Outdoor Fireplace is recommended. This is about sealing joins and lifting eye points so that water is less likely to gather and seep through the fire.
You'll want to do this if:
If you are planning to plaster or paint your fire.
If you are planning to install your outdoor fireplace in an enclosed outdoor space where you want it to remain in an incredibly dry environment.
Transform Your Centrepiece