We are stoked to be at Big Boys Toys this year. In attendance with Flare we also have Andrew Mackle, Executive Chef of Al Brown's two restaurants; Depot Eatery and Federal Deli. Andrew will be cooking up a storm on a Flare Fire, which is a great opportunity to see one of our outdoor fireplaces in action.
We've always had a great relationship with Al Brown and it's been fun getting to know Executive Chef, Andrew Mackle. Andrew will actually be travelling the country with us this year, attending various fieldays and home shows as well as customers homes.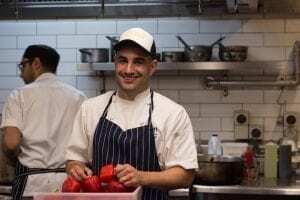 If you haven't eaten at Depot Eatery before, wow it's yummy and well worth checking out. You'll find it on Federal St, Downtown Auckland. I haven't eaten at Federal Delicatessen, but I'm looking forward to doing so.
Andrew got himself a Flare Fire last year and we're really looking forward to seeing what food he has prepared to cook. We've asked him to use a good range of cooking accessories, so that you can come and see the range of cooking options.
Critical Details:
Big Boys Toys, Friday 16 November – Sunday 18 November
Flare Fires, Outdoors, just inside Gate 2