Ahhh, the depth of flavour, the beautiful caramelization, the slight char that can be produced and the smoky infused crusts and skins with just that hint of live fire.
That's not to mention the joy of seeing your kids hop off their devices to sit with you in front of the fire or the pleasure of taking time out to prepare and cook on your fire on a Sunday arvo with a cold beer or glass of wine in your hand.
If you haven't seen our fires before, we are New Zealand's leading outdoor fire company. Our head office is in Te Puke and we are also located in Cromwell, Central Otago.
Having fires you can cook on is one of our main points of difference but the design merit of our fires is probably what really sets us apart. Flare Fires make a great outdoor centrepiece. You don't have to cook on them at all, but you can relax knowing that if you want to, the cooking options have been very carefully thought out.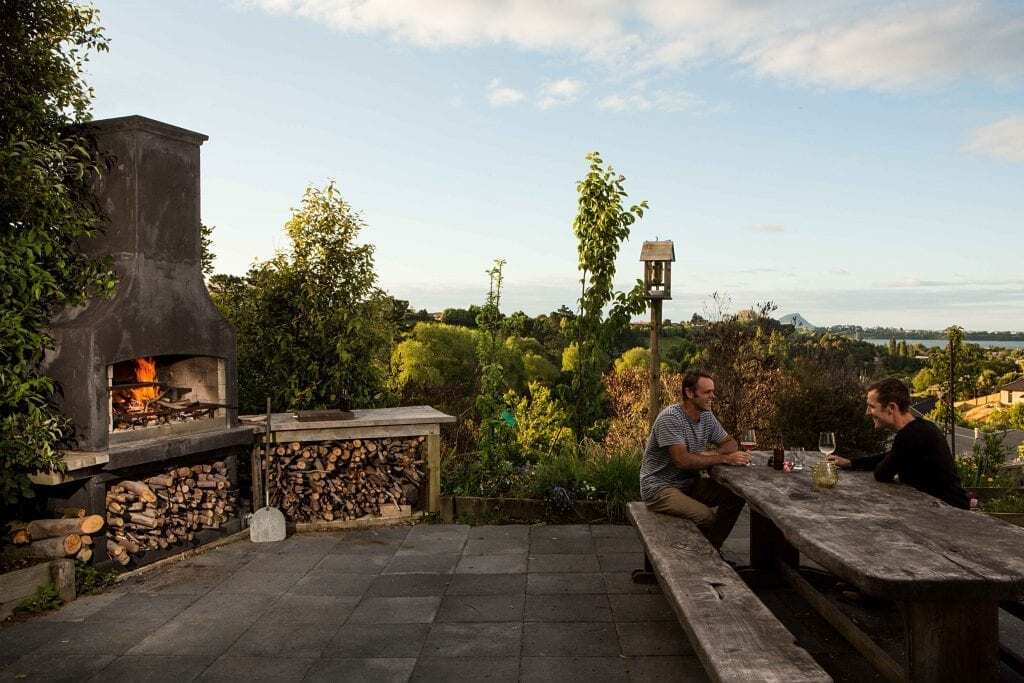 Flare Fires deliver exceptional heat. This is in most part due to the solid masonry construction. The fire acts as a 'thermal mass' allowing the heat to sink into and then radiate from the masonry, creating a lot of warmth.
If cooking on your outdoor fire is important to you then this 'thermal mass' becomes a key feature and here's why:
Good, dry wood can easily burn at 400 – 500°c. With a masonry fire you can sink this heat into the bricks and concrete allowing you to achieve much higher temperatures than you can in a steel oven. For example, it's easy to cook pizza at 350 – 400°c in a Flare Fire compared to your kitchen oven which at best can achieve 250°c.
Being able to achieve this high temperatures is perfect for pizza, think thin crust, it will bake and finish with the crust and toppings done at the same time, in just a few minutes.
The other part of the magic is the consistent radiant heat of a masonry fire. When you're cooking breads and roasts you can start the fire early in the day and cook for many hours by just maintaining a little fire. The 'thermal mass' of the Flare Fire provides steady, uniform cooking.
Anyway, all that being said…feel free to give us a call for a chat to find out more, we'd be happy to explain how it all works and talk you through the options, dimensions and so on. Contact us here.