Outdoor Fireplace Inspiration
See these examples of how a Flare Fire can transform your outdoor space
Your place, your view
We have designed our outdoor fireplaces to be an aesthetically pleasing addition to any space.
Their modular design means they can be scaled to suit your setting.
New Zealand Innovation
Flare Fires outdoor fireplaces have been designed for New Zealand conditions. They are engineered to survive our earthquakes and handle our high wind locations.
On top of that they are full of kiwi innovation, including a 5-way cooking system, a chimney smoker and an unparalleled radiant heat.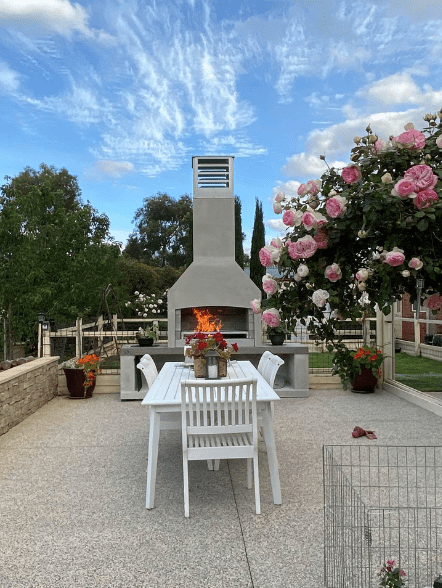 Al Brown's Outdoor Kitchen
Your Setting
We believe an outdoor fireplace should enhance your environment, adding beauty and functionality to draw you into your outdoor setting.
Customised appearance
Like the fire pictured, people have chosen to plaster and paint their outdoor fireplaces to match their homes. Flare outdoor fireplaces can also be built into the roofs of outdoor spaces, fully enclosed and covered in stone, or they can just be left natural.
Start Dreaming
If it's time to start dreaming about your location, it's time to reach out to us. All our products are made right here in New Zealand and our friendly team are here to help.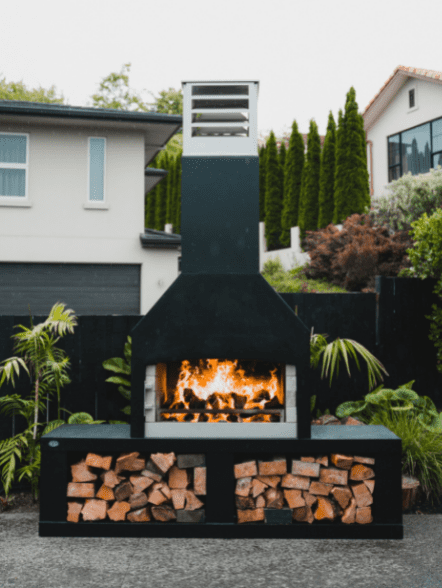 Taking a breath
Making time is one of our core values. It's the spark behind the first Flare Fire, born in New Zealand in the 1990's.
There is something about an outdoor fireplace that causes people to stop and make time.
Covid 19 stole our offshore holiday's, many of us realising our homes really are the ideal place to relax and take a breath.
We hope that the above information has given you some more outdoor fireplace inspiration.
Get busy relaxing
We have built in many different ways to relax around your Flare outdoor fireplace. You can use it as a pizza oven, rotisserie, BBQ, smoker and more.
Or you can just sit in front of the outdoor fireplace and waste the best part of your day doing absolutely nothing.
It can seem like a ridiculous notion, but we think it's ok to make it your time.