Now's the time to start dreaming of summer, and the time to start planning what to do with your outdoor space.
We all love cooking and entertaining outdoors, it's part of what makes us kiwi's. Whether you call it an outdoor fireplace, BBQ or Braai, the love of cooking outside is in our DNA.
Here's 5 outdoor fireplace's to inspire your summer plans:
This is the Boston Outdoor Fireplace.
The Boston Outdoor Fireplace has clean straight lines, perfect for the modern home outdoor entertaining area. The Fire is designed to warm your guests while you entertain. You can cook your steak and sausages easy enough, add the Pizza Hood and you are away laughing. There's also the Rotisserie and the smoker, accessories to really bring your outdoor cooking alive.
This is the Tuscany Outdoor Fireplace.
The Tuscany Outdoor Fireplace range has soft romantic curved lines, perfect for creating an authentic Tuscan-style outdoor entertaining area. Like the Boston Outdoor Fireplace the bricks and concrete act as a 'thermal mass' and absorb the heat and evenly radiate it into the fire cavity. The result is an amazingly warm outdoor area, plus if you want; delicious, wood fired pizza, succulent smoked fish, slow cooked pork, amazing smoke infused breads and desserts. Yum.
This is the Martello. The Martello Tower steel outdoor fireplace is uniquely designed to maximise ambience and warmth as the flames swirl up the exposed flu. It's perfect for those hard to reach back yards and comes loaded with optional cooking features to really enhance your entertaining experience.
This is a sneak peak at Flare Fires new model. The Flare Mini is being designed light enough that there is no need for a hiab or crane. It's great for those with access issues for installation or if you are just wanting a smaller looking fire.
Al Brown's Outdoor Kitchen. Having an outdoor kitchen is a great way to maximise the use of your outdoor entertaining area. It's not hard to create one, see how Al brown has done it.
How Do You Want to Use Your Outdoor Fireplace?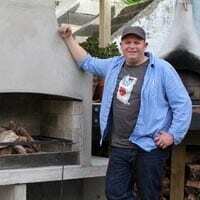 An open fireplace creates the perfect outdoor ambience for entertaining. My Flare fireplace is designed to achieve cooking temperatures quicker. With generous proportions and a wide open mouth you can control the heat with the fire on one side, moving the embers across under the grill when you're ready to go." Al Brown.
Having an outdoor fireplace provides the perfect opportunity to cook as well as entertain outdoors. All the models mentioned above give you the option to cook pizza, BBQ, Rotisserie, smoke and more.
If you just want to sit back and enjoy the warmth, The Executive configuration is a great choice. You can see here.
Would you like a free site visit?
Sometimes you just need someone else onsite to see what's possible. Contact us here, request a site visit, and we'll let you know if there is someone in your area.